Altea, North Costa Blanca
ALTEA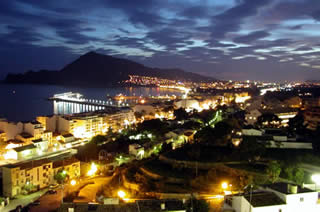 Altea is one of the best places to visit on the Northern Costa Blanca. It has retained its beauty and charm unlike many other former fishing villages.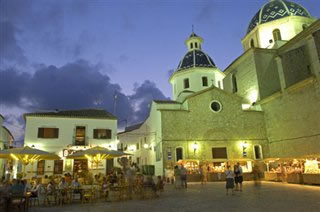 Altea is located south of Calpe and about 15 kilometres north of Benidorm. This makes it a great location to live or visit. Altea has a quiet charm yet is close to bigger more vibrant towns with good shopping and nightlife.
It is famous for the landmark church of Nuestra Senora del Consuelo or Virgin de Consuelo with its famous blue tiled domed roof. The church is set up on a hill and can be seen for miles around.
The town is really split into 3 areas: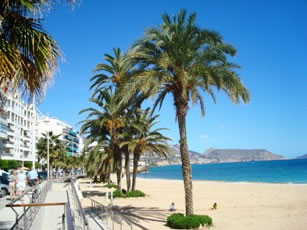 The old town part of Altea is set on a steep hillside behind the town and is popular with artists. Amongst the narrow streets with their scenic white houses, orange trees and geraniums, you'll find painters, potters and many other traditional craftsmen's studios. Traditional restaurants and tapas bars are a must to sample in the old church square and along the cobbled alleyways. There is a real authentic Spanish feel to Altea town.
The newer part of the town and the main road through Altea and the streets off the main road are littered with small designer shops. The railway station is also here that can take you south to Benidorm or north to Denia.
The palm fringed promenade is particularly attractive and the harbour and marina of Altea are also noteworthy. It is very pretty, scenic and great place to eat and drink. The beach of Altea is over 5 km long.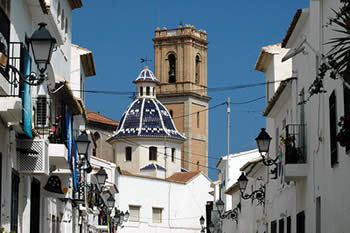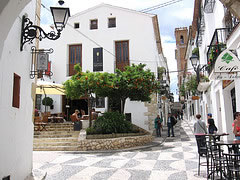 Five or six kilometres away from Altea you will find the mountain area of Sierra de Bernia. From here you will have amazing views over the Altea area and the coastline.
A little further north along the coastline, but more in the hills surrounding Altea, many construction companies are building developments. This area is now known as the "Altea Hills" and is a very luxurious area.